The childhood visual environment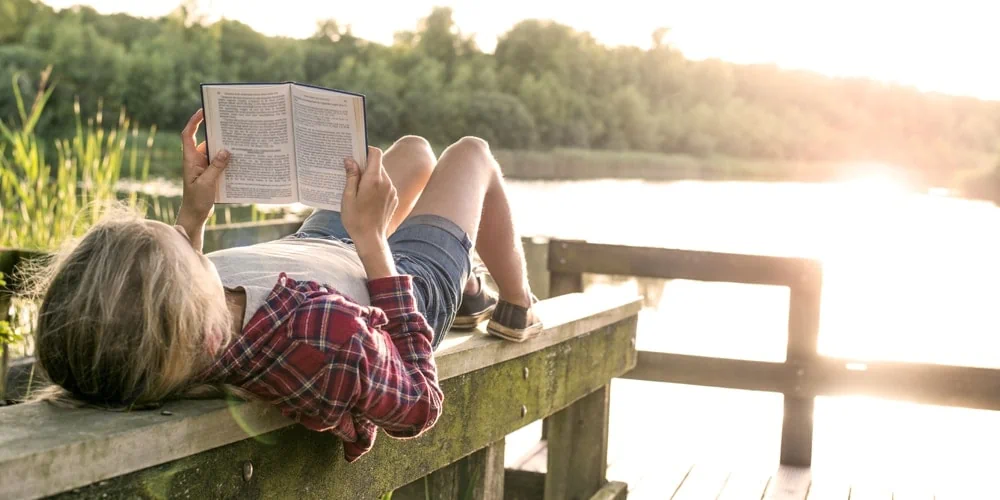 Key Points
Time spent outdoors is beneficial for physical and mental health in children and teenagers, and has also been shown to reduce the risk of myopia.
Lots of digital screen time is linked to myopia development in children and teenagers, along with dry eye syndrome, digital eyestrain, and poor postures.
Three easy rules are provided for outdoor time and indoor time to promote a healthy childhood visual environment.
---
In this article
A child or teenager's vision and eye health can be influenced by how much time they spend outdoors, and what visual activities they undertake while indoors. These factors make up the childhood visual environment.
---
There is lots of research indicating the beneficial effects of time spent outdoors in preventing or delaying myopia in children.1 Myopia is an eye condition which causes blurred far vision, and is also known as short-sightedness or near-sightedness.
Once myopia develops in children, it typically deteriorates every few to several months until the late teens or early 20s, causing worsening vision.2 Myopia is a significant concern to quality of life in children and teenagers, and poses a risk to long-term eye health.3
On the other side of the coin, children are spending more time indoors than previous generations,4 leading to less physical activity and more time spent on screens. Spending time on near work and screens is unavoidable in today's world, especially when children are exposed to screens almost from birth, and are using them at school from younger and younger ages.
Excessive screen usage has been linked to multiple impacts on childhood and adolescent development, from increased risk of myopia to detrimental effects on eye health, diet, mental health and physical activity.5-7
This article will outline how outdoor time and indoor visual activities can influence vision in children and teenagers, with links to further reading. You can also watch this short video to understand more about promoting healthy children's visual habits by striking the right balance between indoor close work and outdoor time.
The benefits of outdoor time for kids
Spending time outdoors can benefit the physical, mental and eye health of children and teenagers - increasing activity levels and fitness, reducing sedentary (sitting) time, and promoting social and emotional wellbeing.8,9 Spending at least 13 hours per week (just under 2 hours per day) outdoors has been shown to reduce the likelihood of children becoming myopic, across multiple research studies.10
Increasing time spent outdoors has also been shown to have a positive effect on slowing the deterioration of vision in children with myopia.11 This can provide an additional benefit for children and teenagers undergoing myopia control treatment, to reduce their myopia progression.
The benefit of time spent outdoors appears to be due to the brightness of the light, not physical activity.12 It's also not as simple as trading outdoor time for reading or screen time - even kids and teens who spend a lot of time on close vision tasks can get the benefits of increasing outdoor time.13
Three easy rules for outdoor time
There are three key rules for the childhood visual environment – outdoors which are important for both reducing the risk of a child developing myopia (short-sightedness) as well as reducing the risk of fast progression, or worsening, once a child or teenager has myopia.
Aim for your child or teenager to spend two hours per day outdoors. While this can seem hard to achieve in our busy lives, it may be mostly achieved at school for primary-school aged children, when this intervention is most crucial to prevent or delay myopia. On the weekend, plan a family outing – even a walk to the local park and a short play will help the minutes tick away.
Don't forget sun protection – hats, sunglasses and shade. Your child or teenager will still get the vision, eye health and physical health benefits of time outdoors without excessive risk of sun exposure.
Kids should be physically active for least 60 minutes a day. This should be moderate-to-vigorous level activity. If this is spent outdoors, all the better for their visual development. Again, for primary school aged children, this may be mostly achieved in break times.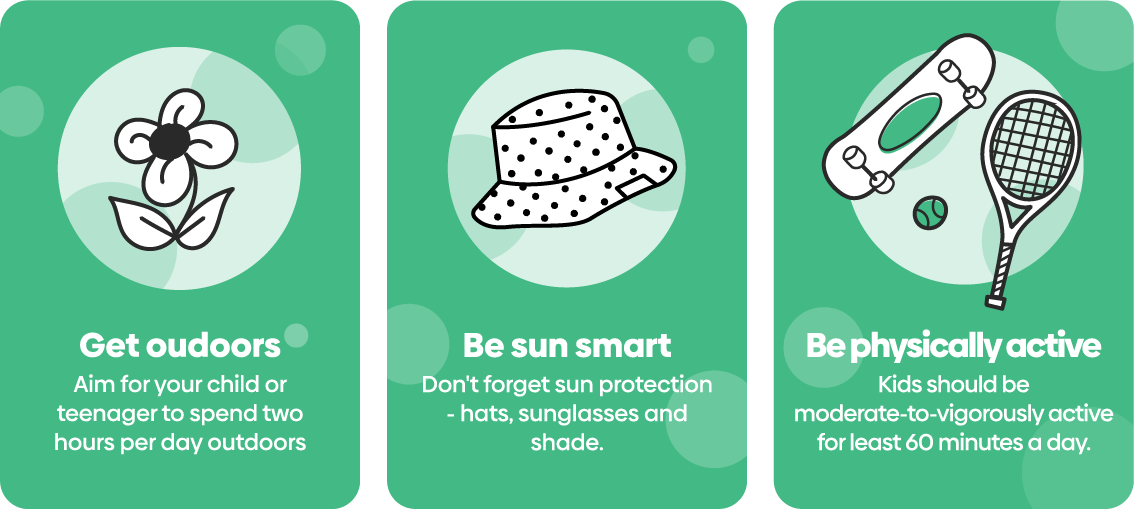 Three easy rules for outdoor time to support vision, eye health and general health in children and teenagers.
Learn more about the benefits, sun protection and physical activity guidelines for kids and teens in our article All about outdoor time.
---
How screen time impacts vision and eye health
Screen time can be beneficial when balanced well with other activities, and is increasingly important in education. Excessive screen use, though, can impact development of good vision as well as physical and mental health outcomes.
Children exposed to screens before age 3 are more likely to have developed myopia by pre-school age.14 There is an increasing volume of research indicating the link between screen time and myopia development in children and teenagers,5,6 although the negative impacts seems to be greatest in children under 106 at this crucial stage of visual development.
Screen time in children and teenagers has also been linked to development of dry eyes and digital eyestrain, which can cause significant symptoms of uncomfortable eyes, blurred vision, headache and red eyes.15,16
Learn more about the impact of screen time on vision and eye health, plus recommendations for screen time, in our age-specific articles:
Three easy rules for indoor time
There are three key rules for the childhood visual environment – indoors, which are important for both reducing the risk of a child developing myopia as well as reducing the risk of fast progression, or worsening, once a child has myopia.
The elbow rule: keep an elbow-to-hand distance away from books and screens to avoid them being too close to the eyes.
The 20/20 rule: take regular breaks from reading to reduce demand on the visual system. Every 20 minutes, take a break for 20 seconds and look across the room.
The two-hour rule: try to limit leisure screen time (outside of school work) to two hours per day in school-aged children.
These rules are designed to protect against very close viewing distances and long durations of reading or screen time which are linked to myopia in children and teens.17 Screen time limits are based on guidelines from national and international expert organizations on child health.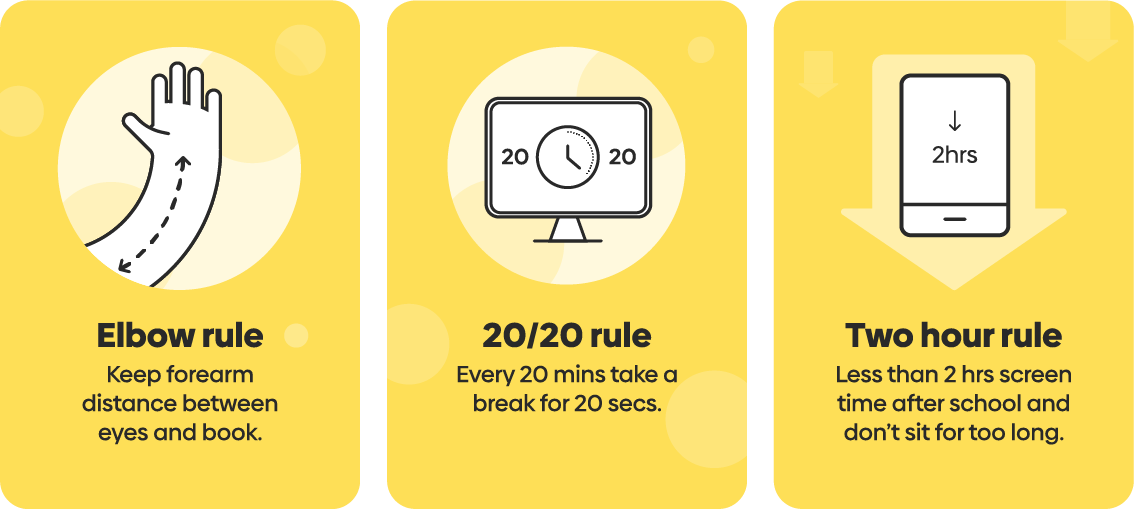 Discussing visual habits with your eye care practitioner
Your child's eye care practitioner or eye doctor (optician, optometrist or ophthalmologist) may use the following Infographic from MyopiaProfile.com to illustrate the risk factors and positive changes you make to support your child's visual development and eye health. We developed the Infographics because using pictures in health communications has been shown to improve learning and application of advice between health professionals, patients and their parents or carers.18
This is part of a set of four infographic panels which describe visual environment advice, treatment options, contact lens wear in kids, and why myopia management is essential.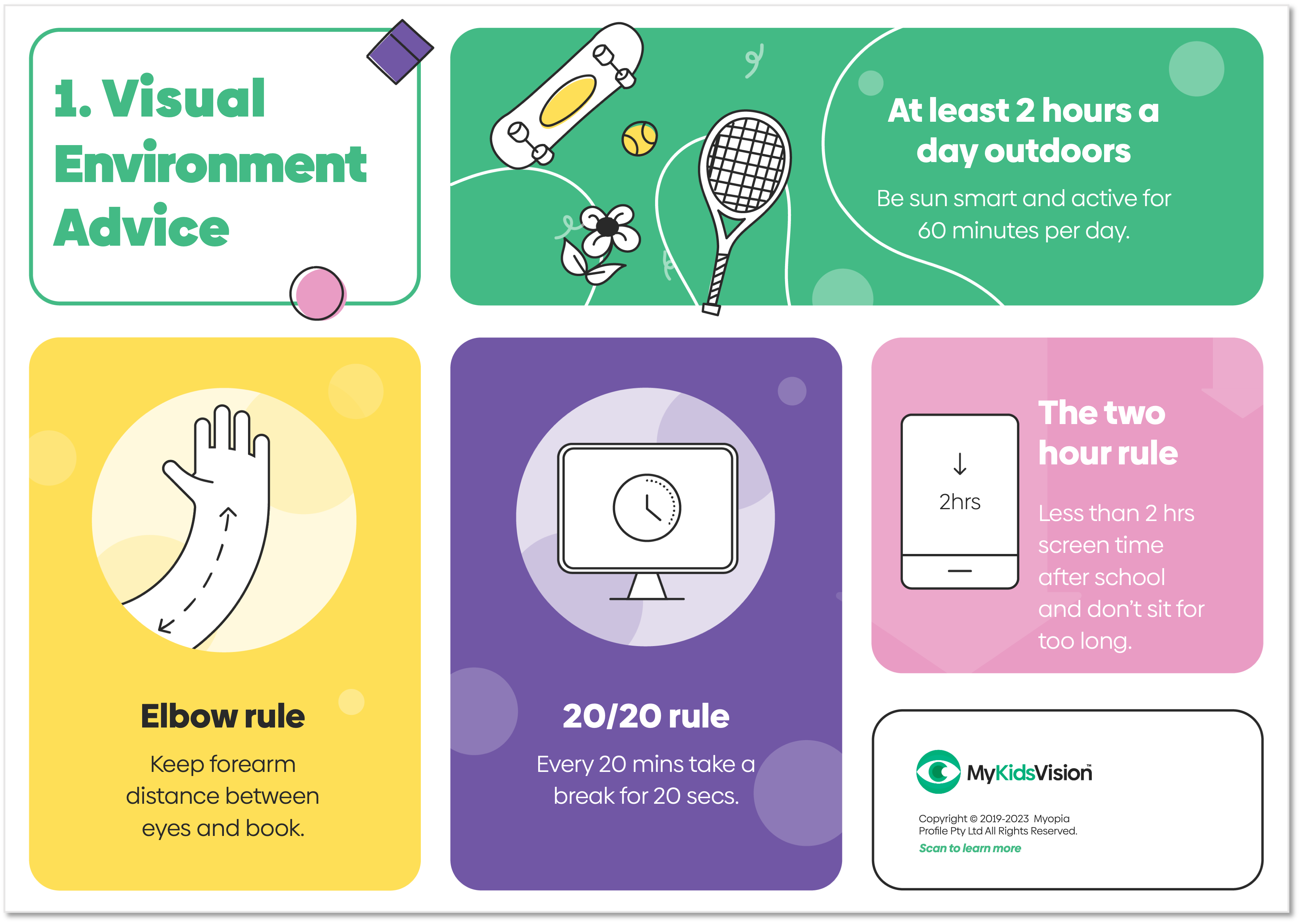 ---
References
Jonas JB, Ang M, Cho P, Guggenheim JA, He MG, Jong M, Logan NS, Liu M, Morgan I, Ohno-Matsui K, Pärssinen O, Resnikoff S, Sankaridurg P, Saw SM, Smith EL 3rd, Tan DTH, Walline JJ, Wildsoet CF, Wu PC, Zhu X, Wolffsohn JS. IMI Prevention of Myopia and Its Progression. Invest Ophthalmol Vis Sci. 2021 Apr 28;62(5):6. (link)
Hou W, Norton TT, Hyman L, Gwiazda J; COMET Group. Axial Elongation in Myopic Children and its Association With Myopia Progression in the Correction of Myopia Evaluation Trial. Eye Contact Lens. 2018 Jul;44(4):248-259. (link)
Tideman JW, Snabel MC, Tedja MS, van Rijn GA, Wong KT, Kuijpers RW, Vingerling JR, Hofman A, Buitendijk GH, Keunen JE, Boon CJ, Geerards AJ, Luyten GP, Verhoeven VJ, Klaver CC. Association of Axial Length With Risk of Uncorrectable Visual Impairment for Europeans With Myopia. JAMA Ophthalmol. 2016 Dec 1;134(12):1355-1363. (link)
Clements, R. (2004). An Investigation of the Status of Outdoor Play. Contemporary Issues in Early Childhood, 5(1), 68–80. (link)
Foreman J, Salim AT, Praveen A, Fonseka D, Ting DSW, Guang He M, Bourne RRA, Crowston J, Wong TY, Dirani M. Association between digital smart device use and myopia: a systematic review and meta-analysis. Lancet Digit Health. 2021 Dec;3(12):e806-e818.
Harrington SC, Stack J, O'Dwyer V. Risk factors associated with myopia in schoolchildren in Ireland. Br J Ophthalmol. 2019 Dec;103(12):1803-1809.
Trott M, Driscoll R, Irlado E, Pardhan S. Changes and correlates of screen time in adults and children during the COVID-19 pandemic: A systematic review and meta-analysis. EClinicalMedicine. 2022 Jun;48:101452
Bento G, Dias G. The importance of outdoor play for young children's healthy development. Porto Biomed J. 2017 Sep-Oct;2(5):157-160. (link)
Zamora AN, Waselewski ME, Frank AJ, Nawrocki JR, Hanson AR, Chang T. Exploring the beliefs and perceptions of spending time in nature among U.S. youth. BMC Public Health. 2021 Aug 23;21(1):1586. (link)
Xiong S, Sankaridurg P, Naduvilath T, Zang J, Zou H, Zhu J, Lv M, He X, Xu X. Time spent in outdoor activities in relation to myopia prevention and control: a meta-analysis and systematic review. Acta Ophthalmol. 2017 Sep;95(6):551-566. (link)
Deng L, Pang Y. Effect of Outdoor Activities in Myopia Control: Meta-analysis of Clinical Studies. Optom Vis Sci. 2019 Apr;96(4):276-282. (link)
Read SA, Collins MJ, Vincent SJ. Light Exposure and Eye Growth in Childhood. Invest Ophthalmol Vis Sci. 2015 Oct;56(11):6779-87. (link)
Rose KA, Morgan IG, Ip J, Kifley A, Huynh S, Smith W, Mitchell P. Outdoor activity reduces the prevalence of myopia in children. Ophthalmology. 2008 Aug;115(8):1279-85. (link)
Yang GY, Huang LH, Schmid KL, Li CG, Chen JY, He GH, Liu L, Ruan ZL, Chen WQ. Associations Between Screen Exposure in Early Life and Myopia amongst Chinese Preschoolers. Int J Environ Res Public Health. 2020 Feb 7;17(3):1056. (link)
Moon JH, Kim KW, Moon NJ. Smartphone use is a risk factor for pediatric dry eye disease according to region and age: a case control study. BMC Ophthalmol. 2016 Oct 28;16(1):188.
Mohan A, Sen P, Peeush P, Shah C, Jain E. Impact of online classes and home confinement on myopia progression in children during COVID-19 pandemic: Digital eye strain among kids (DESK) study 4. Indian J Ophthalmol. 2022 Jan;70:241-245.
Li SM, Li SY, Kang MT, Zhou Y, Liu LR, Li H, Wang YP, Zhan SY, Gopinath B, Mitchell P, Wang N; Anyang Childhood Eye Study Group. Near Work Related Parameters and Myopia in Chinese Children: the Anyang Childhood Eye Study. PLoS One. 2015 Aug 5;10(8):e0134514.
Houts PS, Doak CC, Doak LG, Loscalzo MJ. The role of pictures in improving health communication: A review of research on attention, comprehension, recall, and adherence. Patient Education and Counseling. 2006;61:173-90.
Back to the knowledge centre