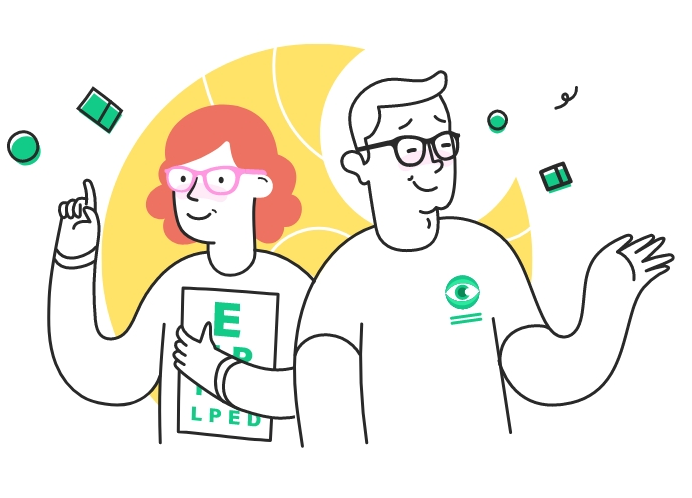 About Us.
Developed by optometrists Drs Paul and Kate Gifford, My Kids Vision is a free online tool that helps parents to assess and manage myopia risks for their children.
After developing professional educational resources through their clinical resource Myopia Profile, Paul and Kate realised that more work needed to be done to support the parents of children with myopia. My Kids Vision was initially launched in 2016 as a short risk factor survey, and soon developed into a complete online resource for parents, offering high-quality, balanced information on children's vision and myopia.
From helping parents to assess their children's risk of myopia to answering frequently asked questions and sharing articles contributed by eye care practitioners from all over the world, My Kids Vision is a comprehensive online resource for parents supporting their child's eye health journey.
Meet Kate.
Dr Kate Gifford is a clinician-scientist, peer educator and professional leader based in Brisbane, Australia. Along with husband Paul, she is the co-founder of My Kids Vision and Myopia Profile.
Kate has vast experience in all aspects of eye care. She was the youngest ever National President of Optometry Australia from 2014-16, was awarded the inaugural BCLA President's Award, named the QUT Young Alumnus of the Year in 2017, and named one of the world's Top Myopia Influencers in 2021. Kate has published numerous scientific and educational papers, has lectured across the world, and is a Visiting Research Fellow at QUT. Outside of her work, Kate is a mediocre runner, aspiring yogi, green tea addict and voracious reader.
Meet Paul.
Dr Paul Gifford is a research scientist and industry innovator based in Brisbane, Australia. Along with wife Kate, he is the co-founder of My Kids Vision and Myopia Profile.
Paul's expertise includes every facet of the optometry profession, from clinical practice to academia, research and industry. As well as his role in My Kids Vision and Myopia Profile, Paul is an Adjunct Senior Lecturer at UNSW and a consultant to the contact lens industry. Paul has won several prestigious research awards, published numerous scientific and educational papers, and lectured internationally. In his spare time, Paul is a new tech explorer, cooking enthusiast, fancy coffee fanatic, avid reader, and a much better runner than Kate.
Introducing Myopia Profile.
"Our mission is to improve the standard of children's vision care worldwide through education for parents and eye care practitioners alike in the best practice management of childhood myopia."
Drs Paul & Kate Gifford
Created by Paul and Kate Gifford, Myopia Profile was the culmination of Kate's 15 years of experience in her Brisbane optometrist practice. Having begun life as a way to share clinical patient tools to support optometrists, Myopia Profile has since developed into an internationally trusted information resource on clinical myopia management for eye care professionals. It's now the largest and most popular, multi-channel educational resource dedicated to childhood myopia management in the world.
Myopia Profile exists to share information and provide access to the latest research and industry innovations in myopia management, as well as offering a practitioner forum for discussing clinical cases with colleagues. Head to the website to find out more.
Visit Myopia Profile