How do I know if myopia control is working?
Key points
No treatment available can promise to stop myopia progression, but many treatments can slow it down
Myopia progression can be measured by refraction (power of glasses) and axial eye length (front-to-back measure)
Your child's age is the key factor in how fast their myopia could be expected to progress, and in determining success of treatment.
---
In this article
Myopia progression can be measured in two ways, and compared to research data to determine success of a myopia control treatment. How well a treatment is working will depend on your child's age and other factors such as how the treatment is used.
---
Myopia control aims to reduce the progression or worsening of myopia in children and teenagers. Myopia typically develops between age 6 and 12 and tends to worsen at regular intervals until the late teen years,1 but in some it can continue worsening into the 20s.2 Treatments for myopia control which slow the progression of myopia include special types of spectacle lenses, soft contact lenses, ortho-k and atropine eye drops.
It is important to note that no treatment can promise to stop myopia progression, only to slow it down. There are a variety of treatment options available which can slow myopia progression. No single treatment is clearly superior to the rest, and each have their place depending on what best suits that child's individual situation.3 How can we tell if a myopia control treatment is working?
What does it mean to slow myopia progression?
Slowing myopia progression – called myopia control – means to observe a reduced rate of progression in a child compared to a child of the same age who is not receiving a myopia control treatment.
An example of a non-treatment is a child with myopia who is wearing single vision spectacles or contact lenses, which correct blurred distance vision with one single power in the lens. Children wearing single vision spectacles or contact lenses have accelerated worsening of their vision compared to children who are prescribed myopia control treatments.3
Children with myopia show faster progression or worsening when they are younger, and slower progression or worsening as they get older.1 The fastest myopia progression tends to occur in 7 to 10-year-old children, girls, and those with higher levels of myopia.4 Children of East Asian ethnicity tend to progress faster than non-Asian children.5 This means that the goals for myopia control will depend on your child's age, and these other individual factors.
Myopia progression is fastest in younger children 7-10 years, so the goals for myopia control will depend primarily on your child's age, as well as other individual factors.4,5 Read more in Understanding expectations in myopia control.
How is myopia progression measured?
Myopia progression is determined with two measures: refraction and axial length of the eye.
Refraction is the power of spectacles or contact lenses required by the child for clear vision. A larger absolute number means a higher, or more severe refraction. Refraction is typically measured at each eye examination and is the most obvious and visible manifestation of myopia.
Axial length is the measure of the eye from front to back. It is measured from the front surface of the cornea (the clear window over the coloured iris of the eye) right through to the back curve of the eye underlying the retina (the light sensitive layer at the back of the eye). It is measured using an instrument called an optical biometer.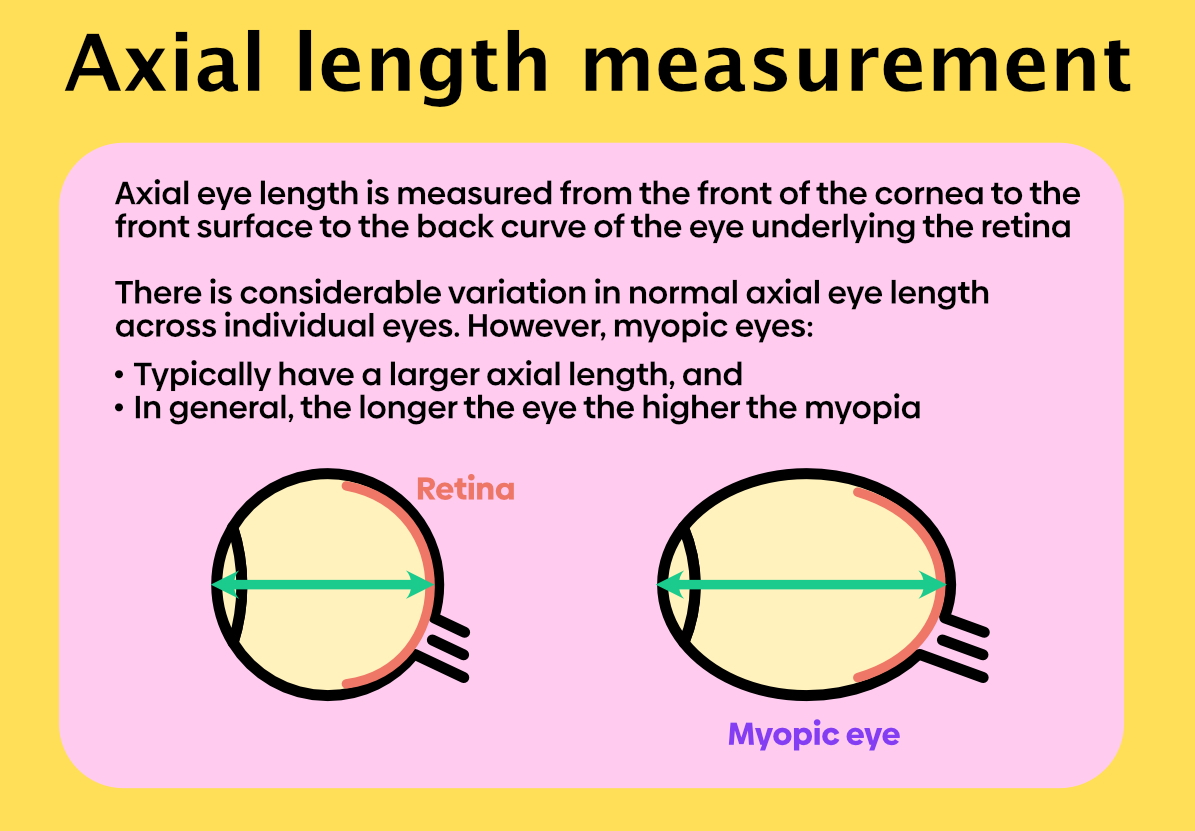 All good quality research studies which investigate myopia control will measure axial length, as it is up to 10 times more accurate than refraction.6 There is also a close link between slowing eye growth (measured by axial length) and reducing the lifelong risk of eye diseases and vision impairment associated with myopia.7 Not all eye care practitioners measure axial length, though, as it requires additional equipment to do so. By comparison, all eye care practitioners will measure refraction.
Axial length growth is normal in children until around age 12, but in myopia the eye growth is too fast and tends to continue until the late teens.1 To understand more about axial length and its link with myopia and vision problems, read Measuring myopia progression using axial eye length.
What treatment outcomes should I expect with myopia control?
To determine if myopia control is working, measures for refraction and/or axial length need to be compared over at least two time points. The change measured over time can then be compared to expectations for that treatment. Experts recommend that the effectiveness of a treatment be measured after one year, as there can be seasonal variation in myopia progression across a year.3
There are two main ways to determine if a myopia control treatment is working well for your child or teenager.
The change in your child's refraction and/or axial length is compared to the average amount of progression expected over a year for an untreated child of the same age. 'Untreated' means if your child was wearing standard single vision spectacles or contact lenses. If your child is progressing by less than this average amount, then this is a good result.3
Your child's axial eye length is plotted on a percentile growth chart. Growth charts are well understood from other measures of childhood eye growth, like height and weight. If the percentile reduces with time, this indicates slowed eye growth and a good myopia control result.8
Remember that your child's age is the key factor in how fast their myopia can be expected to progress without active myopia control treatment, and also the main factor in determining treatment success.
Here is an example of how a child's age factors into the treatment expectations for myopia control. Research has shown that, on average, a 7-year-old with myopia shows progression of more than -1.00D per year (4 steps of refraction), while on average a 12-year-old shows progression of around -0.50D per year (2 steps of refraction).5
This means that if a 7-year-old progresses by -0.50D in a year of myopia control treatment, this is a good result; but if a 12-year-old progressed by this same amount in a year of myopia control treatment, this would be a poor result.3
What if myopia control isn't working as expected?
Children don't always grow at consistent rates, which can mean a long-term view on the goals of myopia control is helpful. This means that a myopia control treatment should ideally be used for at least a year before assessing whether the intended effect has been achieved.3
Switching to a different treatment sooner than this could be required if the treatment turns out not to be suitable or tolerated by the child, but otherwise treatments should be given time to have their impact on slowing myopia progression.
A myopia control treatment may not work as expected for a variety of reasons. These could include if the treatment is not worn or used often enough, if your child has higher myopia or has other co-existing eye conditions.
Your child's visual environment can also have an impact – too much time spent on smartphone and table computers,9 and/or reading at close distance for long durations10 is linked with myopia progression. Increasing time spent outdoors can help to tackle myopia.11
There are a variety of reasons why a treatment may not work as well as expected. The most important first step is to ensure the treatment is being worn or used as prescribed by your child's eye care practitioner.
The second step is to consider the visual environment: increasing outdoor time and reducing leisure screen time to less than two hours per day. Read more on this in our article on The childhood visual environment.
The best way to ensure good outcomes from myopia control treatment is to ensure that the treatment is worn or used full-time, every day, and to return for regular eye examinations.
The International Myopia Institute recommends six-monthly eye examinations for myopic children.12 Sticking to this schedule, or as otherwise advised by your child's eye care practitioner, can ensure that any potential issues with wearing time, treatment use and acceptance can be managed before they impact myopia progression and treatment success.
---
References
Back to the knowledge centre